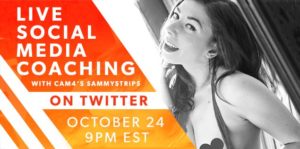 We have started hosting live coaching on Twitter to help you use social media to earn more money! Our first session featured social media & camgirl pro Sammy Strips teaching us the basics of the social media.
TWITTER 
1. Keep Your Profile and Cover Images Clean
Performers are able to show more sensitive and R-rated content, but this is not true for every area in Twitter. In your profile picture and your banner you can't show any nudity, nothing sexy! Keep it SFW. This helps to keep your profile active and away from the dreaded bans. 
2. Keep Twitter Live Streams Clean
The same rules apply to your live broadcasts on Twitter, make sure there's no nudity. Though this is an awesome way to tease viewers into your shows, it's not the place to get explicit. 
3. Keep Nudity in Your Posts
Your tweets can include nudity, so you're free to be as explicit as you want. 
4. Am I Shadowbanned?
Twitter will "shadowban" accounts that violate these rules. This means that your profile won't appear in searches, making it hard for fans to find you. 
5. Tagging People in Photos
If you're uploading a picture, click on the "Who's in this photo?" button and you can tag up to 10 users in the photo. This is a cleaner option than tagging followers in the tweet itself.
6. Use Twitter Analytics!
 If you're on your desktop on your Twitter profile page, look at "statistics" on the sidebar.  You can get a lot of information about when's the best time to send your tweets, who's following you, their interests etc. If you go through that data, you'll have a better understanding of when you can make money and gain followers.
INSTAGRAM
Keep it all Clean!
Everything has to be SFW! Instagram can take down any pictures that are reported as, or are NSFW. Tease viewers, or show off your personality and style. 
2. We Recommend no More Than Bikini Photos
Take some bikini pics and keep them on hand for Instagram. It's also good to take some seductive pics without any nudity or explicit content.
3. Where Can I Link?
Try not to post links to porn sites in your posts – instead, post your Twitter link so your followers can get links to your cam shows directly there. 
4. Snapchat Takeovers
The best way to get a Snapchat takeover is to send a message to @CAM4 on Twitter and we'll hook you up! Sammy is booking into December, so let her know! Snapchat takeovers are a great way to get lots of photos and videos so you can post on your personal social media accounts.
Getting Your Posts RT'd by your Cam Company
To get retweeted by a camming platform, there's some key things you have to do: 
Include your URL – we want followers to click on your links!
Use hashtag (#) or '@' your cam company – #cam4, for example. 
Post a HOT visual! (videos are a huge preference though) People love to see visuals. You can add up to 4 photos in a post.
If you want people on Twitter to watch your live shows, the Twitter picture should show them what that show's going to be like. Example: if you're doing a show from your bath tub, take pics/video of you in the tub!
Separate posts if you're tagging separate cam companies! One post for one site, that way each site has the opportunity to retweet you
PRO TIP: Use videos from your Snapchat to post on Twitter!
CAM4 COACHING
CAM4 provides users with Performer Training every Wednesday with cam coach, Nikki Night! Social media is one of the topics she covers. If you're interested in watching, message Sammy Strips!
For a more personalized experience, we offer free One-on-One training for all CAM4 performers.
Shoot Sammy a message and tell her what you're interested in learning about!
Follow @CAM4 on Twitter to find out upcoming coaching broadcasts with @SammyStrips!