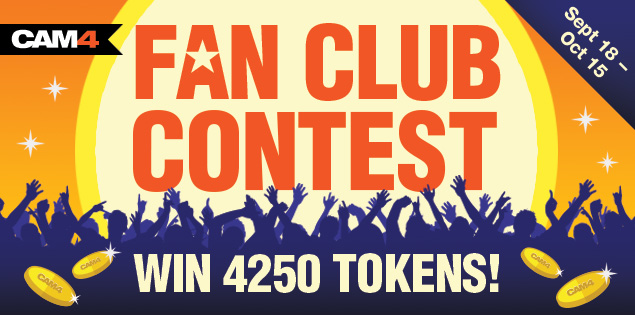 Growing your Fan Club this summer could win you big money! Sign up now for your chance to win the first place prize of 2000 Tokens! 
How it works:

From Sep.18th – Oct.15th, the top 4 performers who earn the most money from NEW fan club subscribers win! 
Your goal is to get as many new subscriptions as you can! The winner is based on the increase these new subscribers have on your total number, not the total number itself. So, if you only have a few subscribers but you earn the most money from new subscribers during the contest you win! 
This way, even performers who have few or no fans at the start of the contest, have a great chance to win first prize 🙂
Prizes
---
First Prize – $200
Second Prize – $100
Third Prize – $75
Fourth Prize – $50
Contest Rules
---
Approved CAM4 performers only
Only performers who've signed up for the contest will be able to win a prize.
Winners will be based on Fan Club increase of NEW subscribers from Sep.18th – Oct.15th only. Your subscription renewals don't count towards the contest.
New subscribers only! Members must NOT have been a member of your FanClub at anytime in the past, subscribers that have been members previously will not count towards the contest.
 Sign up deadline is Aug.13, 2017, no performers will be allowed to join the contest after that date.
No cheating! No agreements with viewers to try to alter the results of the contest! 
Sign Up Form